The Innocence Mission's first CD single in 14 years
The band's UK label Bella Union Records, in conjunction with Cool Badge Radio & TV Promotions, has released a promotional single for the track "Look Out From Your Window". Although I do not if these are one-off CD-Rs or pressed singles as of yet, I can say that several have appeared on Ebay in the last few days. One seller said his copy was obtained at a record fair. It's unknown if these will be released commercially.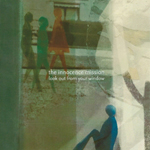 In other news, the UK single for "Look Out From Your Window" has premiered an animated music video on Paste Magazine and is available now.