Indie film "Quick Feet, Soft Hands" screening
Quick Feet, Soft Hands, a film by Roanoke, VA filmmaker Paul Harrill (Lovell Films) will debut in Knoxville on September 11th (7:30 pm) at the Regal Downtown West Cinema 8. Cost: $5.
The 25 minute film follows a young couple in their pursuit of the American Dream. Greta Gerwig (Joe Swanberg's Hannah Takes the Stairs) stars as Lisa, a young woman whose hopes of moving up are tied to Jim (Jason Von Stein), a minor league ballplayer. As Jim falls deeper into a batting slump, Lisa must face the day-to-day realities of being young and poor. And she must confront the prospect that they may never make it to the big leagues. Co-produced by the Independent Television Service (ITVS), Quick Feet, Soft Hands is the latest work by Paul Harrill (Sundance Jury Prize winner, Gina, An Actress, Age 29).
According to the online press kit, the film's lone music cue is the Innocence Mission's "Beautiful Change". You can view the trailer by clicking the image below.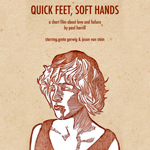 Source: Knoxvillefilms.com