Cassettes may be obsolete…
The Innocence Mission's debut self-titled A&M album was released in Taiwan. Here's a picture as proof.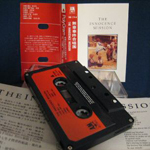 There's bound to be a Taiwan CD and perhaps even a 12″ of the debut record. If you have proof of this, be sure to let us know. According to the seller on E-bay, this isn't a Japanese release, although it was released through A&M/Polygram.